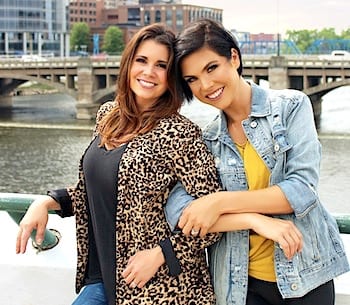 Cumulus Media is proud to announce that The Gray and Green Show on Top 40 WHTS (105.3 Hot FM)/Grand Rapids, MI has been honored by the Michigan Association of Broadcasters with two MAB Broadcast Excellence Awards in the Commercial & Network Radio category: 1) Best Morning Show Broadcast Personality or Team and 2) Best Feature/Use of Medium. The Gray and Green Show debuted on 105.3 Hot FM in August 2019 and is billed as the first and only morning radio show in West Michigan hosted by two female personalities — Rachael Gray (left) and Jackie Green (right).
Bruce Law, VP/Market Manager of Cumulus West Michigan, said, "We are thrilled that this dynamic and empowering show has achieved such incredible recognition. Rachael and Jackie connect with our listeners in an incomparable way, and it's gratifying that their talent and particular brand of broadcast magic is resonating far and wide."
Lori Bennett, OM/PD of 105.3 Hot FM, commented, "It's unprecedented both in the market and in the state for a team this new to take the MAB's top honor of 'Best' and in a remarkably short period of time. The merit award for Best Feature/Use of Medium recognizes their Intersex Awareness Day (Jackie is Intersex and an advocate) is also very timely and sends a message of inclusivity we appreciate as well. People outside the state and market vote on these submissions, so there's no 'campaigning,' and that makes it even more special."
Gray commented, "Having watched on the sidelines as our industry peers won this award in the past, it's so gratifying for me personally to imagine that the judges believed in us the way we believe in each other! Our relationship on and off the air is based on mutual respect and collaboration, and I truly think that helped set us apart from other entries." Green added, "Sharing our friendship with West Michigan has been the most rewarding part of my career. To win an MAB for this — and so early into our time as a show has me… probably for the first time in my life… speechless!